Vinyl Decals:
Alien Invasion Response Team &
Alien Abduction Response Team
Have you seen any vehicles with the "Zombie Outbreak Response Team" decals or stickers? It's nice to know there's a specialized defense force to protect against zombies.  But what about alien invasions?  Alien encounters and abductions have been rare but it's only a matter of time until the aliens are satisfied with their reconnaissance and launch a serious invasion.  Are you going to let the aliens round you up like sheep or are you going to be prepared to defend the Earth? 

The following decals are available in two sizes, 8 inch diameter and 5 inch diameter. These are the highest quality die cut vinyl decals available so they look like they are painted on most surfaces and will last for years outdoors without fading.  They're designed for vehicles but they can also be applied to any relatively flat surface such as computer cases, notebooks, windows, and walls. See the photo below of a 5" decal on a laptop computer.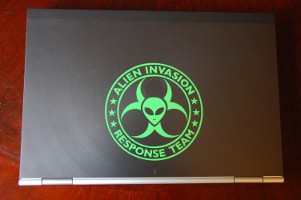 Purchase Options:
See below for color options and sizes. Shipping and handling in US (including Hawaii and Alaska) costs $2.95 for each design you order, regardless of the quantity. Select the quantity you would like after clicking on the "Add to Cart" button. All transactions will be securely handled by PayPal.
In stock items will usually be delivered in one to two weeks. Out of stock items will usually be delivered in 3 to 4 weeks. Add the optional $5.00 additional rush order shipping and handling to your cart and we will make every effort to deliver your decals in 3 business days.
Alien Invasion Response Team
White Vinyl Decal
(Shown on a black background)
In Stock



Alien Invasion Response Team
Black Vinyl Decal
(Shown on a white background)


In Stock




Alien Invasion Response Team
Green Vinyl Decal
(Shown on a laptop computer case)


In Stock




Alien Abduction Response Team
White Vinyl Decal
(Shown on a black background)


In Stock




Alien Abduction Response Team
Black Vinyl Decal
(Shown on a white background)


In Stock



Optional $5.00 additional rush order shipping and handling includes 2nd day priority mail. (We do our best to have your decals delivered in 3 business days.)