Other Espresso Machines
Traditional Espresso Machines: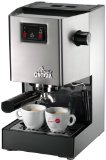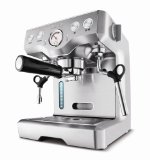 Traditional espresso machines are capable of producing the most sublime espresso imaginable. However, this is only possible when the operator has mastered some important skills and uses fresh ground coffee from a high quality coffee grinder designed especially for espresso. The most popular traditional machines are pump driven semi automatic machines. However, for the ultimate in manual control, lever operated machines require the operator to create the proper pressure for maximum espresso extraction.
Super Automated Espresso Machines:

Making espresso the traditional way can be very rewarding but is a lot of work. To make the process much easier, super automated espresso machines have been developed which automatically do everything from grinding the beans to tamping the grounds to delivering the proper quantity of high pressure hot water. These machines can not quite equal the quality possible from a traditional machine operated by an experienced barista but they can produce consistently good espresso. In fact, many coffee bistros have switched to commercial super automated espresso machines so that they can provide consistent high quality without needing highly trained baristas.
Super automated espresso machines enable quick and convenient operation with the flexibility to use whole espresso beans. There is virtually an unlimited variety of whole coffee beans available and buying whole beans provides the most economical shots of espresso. The only disadvantages of super automated machines, besides the price, are that these machines are very complex which tends to result in reliability problems and they tend to be more difficult to clean.